Update February 6th, 2014
Incoming!
===================
Update October 30, 2013
Incoming
=========================
Update July 2, 2013
New Mystery Card to arrive next week at ABT HQ.
Expect a review some time mid-month using the newly expanded 30-game benching suite including FC3 and Skyrim. This is evidently quite a special card
==============
Update 5/15/13
Something new is OtW
. . . hmmm ...
The ABT 660 Ti BOOST evaluation is going to be late.
Here is my conclusion so far
(and i'll put up a chart showing Boost at stock and OC'd vs the GTX 660 with more cards to follow)
Basically - to sum it up, for $169 you get a 2GB card that can be SLI'd and that when overclocked, can match a stock GTX 660
Availability is TODAY - well ahead of the 7790 Paper Launch. And the real match up comes next week when the GTX 650 Ti BOOST 1GB at $149 goes up against the HD 7790 at $149
http://lanoc.org/review/video-cards/634 ... -boost-2gb
The titan arrived yesterday (Monday). The preview is due but mine will be late a few hours. Benchmarks are coming in two days. 30 games and 3 synthetics and tested at 3 resolutions including 5760x1080.
http://www.theverge.com/2013/2/19/40040 ... single-gpu
http://www.guru3d.com/articles_pages/ge ... nce,1.html
http://hexus.net/tech/reviews/graphics/ ... -overview/
It's $999
(2-15-2013)
i haven't done one of these in awhile. There is a brand new company (to us) that we will be dealing with, and we will be evaluating their product. It was just confirmed today by the rep. It's really good news for ABT(!) And evidently they move pretty fast.
i just checked tracking. Something is definitely incoming for next week. i'll let you know more when it arrives.
- it's a genuine mystery card .. and i guess i will keep on working here ....
===============================================================
10/25/10
New Mechanical Keyboard arrived from Cooler Master. i'll put up some pics today. This one is also compact but unlike the Thermaltake KB which uses the Red Cherry MX switches, this one is programmable and uses the Blue.
i am **writing** the Cooler Master 1000W PSU evaluation now (i like it; it passed all stability tests)
i finished benching for the (1) HyperX Kingston SSD versus the (2) HyperX 3K SSD vs the (3) Kingston (Consumer) Vnow100+ series versus a (4) Seagate HDD - that evaluation will be up at the weekend
i am benching the GTX 680 vs the HD 7970 (at GE speeds) right now .. expect a driver performance analysis of the battle of the betas - Catalyst 12-11 vs GeForce 310.33
AND expect a SOMETHING NEW (and completely different) on Monday
8-28-12
New Mystery card has arrived.
==================
08/13/12 - i just got word of (yet) another incoming card ... that's two in one week!
. . . incoming! -- duck!!!
======================
08/08/12
incoming .. no idea what is coming .. it's a "mystery' card
=======================
5/10
The mystery is why Sapphire . . .
... well, never mind .. we got one this and the evaluation will be published while i am at the GTC next week!
5-3-2012
i am almost done with the GTX 690 evaluation .. it will be up today. i'd like to actually put it up reasonably "finished"
However, FedEx arrived today with another mystery card
if i wasn't dead tired, i would be doing cartwheels
-- and i got word we will finally get to test 2 vs 4GB of vRAM on the same model
4/23/12
Something new arrived from Nvidia at ABT HQ this morning (also)
It is labeled:
FOR USE IN CASE OF ZOMBIES OR ...
http://n4g.com/news/984364/teaser-nvidi ... nvasion-or
=================
04/13/12
INCOMING!
Something BIG
(not physically, perhaps)
===================
03/13/12 UPDATE
Benching for HD 7770 GHz OC edition complete and charts are up in this thread. Soon to be published
--PowerColor HD 7970 ordered from NewEgg for $600
(thanks, dave!!)
Benching on Mystery card evaluation has also begun
expect a Thermaltake Frio/FrioOCK evaluation also this week and Mario is going to have a Genius Product evaluation also. Busy busy busy .. it's good to have the site back up
3/02/12 update
Sapphire HD 7770 GHz OC edition arrived today.
===============
2/22 update
New mystery card arriving ...
see latest post
========================
i just got notice of FedEx tracking for an incoming AMD package due on Friday
Code: Select all
Service type
FedEx 2Day Box

Weight
1.0 lbs/.5 kg
A bomb?
Many delays on the MDT card review. Evidently i had a defective (intermittently so) Dual-link DVI cable that really screwed with my (and Galaxy's) head. 5760x1080 at 50Hz simply wouldn't work. Once i figured out the cable issue, now there are problems running the benches at this resolution. i'll get a review up one way or another in a few days. The 3D Vision 2
THEN ... the mystery card!
=============
12/6
Lots going on here. Just got the new MDT Galaxy GTX 560 Ti for review. Interesting card that attempts to take on Eyefinity's 3 displays at 1080p. Not sure if it provides the full 60Hz resolution. Pricing sets it squarely against the HD 6950, so we will compare the two cards, side-by-side. The advantage the MDT card starts with, is that it has 4 - DVI ports for 4 displays; for a Radeon, you would need a DP adapter to use more than 2 DVI displays.
Unfortunately, i can't even get to the MDT 560 Ti card until next week.
Batman: Arkham City
3D Vision 2 performance evaluation is up next even though i may not finish the game before i publish. It will be a 2D/3D performance review, of course - and it will cover 3D Vision 2 and the new 27" Asus Light Boost display. And it should be published soon after the patch and testing. i will test it with several GeForce cards - GTX 550Ti, 560 Ti, 560 Ti 448 Core, GTX 580 and GTX 590. i'm looking for playable settings and testing with and without a dedicated PhysX card.
---It would make zero sense to test with a Radeon as it is a 3D Vision 2 review
In the meantime, i am working on a Thermaltake full tower Chaser MK II evaluation as i transition into looking at cooling. i am going to attempt a really high overclock on my Intel CPU using my old Noctua cooler and two of their new super-efficient and even quieter NF-F12 PWM fans. For that same evaluation, i will use the new Noctua fans with the Asetek AMD FX watercooler - so you can see, there is plenty coming. . . .
Add to that, Thermaltake's Frio and FrioOCK (best) CPU coolers .. overclocking the FX-8150 with Tri/Quad-Fire ... and there is a lot cooking here. There is still part 3 of SLI vs CF with massively overclocked CPUs (Phenom II, i7 and FX) on the way (no need to heat my house!!)
Of course, the Viewsonic HD3D-ready V3D231 is also going to be tested and it will be part of the "HD3D vs. 3D Vision 2 Mega Face-off". i should be busy with HW reviews right through CES and hopefully an ABT report from there ... and then there will probably be some
new
mystery cards coming ... and always the emphasis on testing the latest drivers
====================================================
Another day, another update - Happy December 1 and happy holidays. We are going to be busy!
Yet another new card is coming this week. No mystery however
http://www.newegg.com/Product/Product.a ... 6814162082
i guess it gets compared with the Radeon HD 6950 since they are in a similar price range.
Galaxy surprised the heck out of me with an "it's on the way". i am a little buried now with HW
letsee ...
Noctua fan (interesting changes in an awesome design),
Thermaltake Chaser MK II tower review (using HD 6970-X3 Trifire and watercooled FX 8150),
the Asetek watercooler,
two Thermaltake CPU coolers (Frio/FrioOCK),
3D Vision 2 vs HD3D - featuring Batman AC and Asus VG278 vs. Viewsonic V3D231)
.. and that is not counting my Part 3 of SLI vs CF nor my reviews of the AM3+ Asus MB vs. the z68 ASRock motherboard.
i better get right back to work !!
-- playing Batman ... DX11 patch coming soon ..
Lots going on. 11/21/11 update
New MYSTERY card arriving next week .... expect a review soon
What has arrived and what is up next.
Next up is a Thermaltake eSports Meka Gaming KB .. hopefully tonight
Then Batman Arkham City preview and later will be a 3D Vision evaluation; it will be my newest benchmark along with BF3 - preview should be up tomorrow .. i am D/Ling tonight and if possible i will get our web master to collaborate on the evaluation since he finished it already (XBox)
Then i have the Thermaktake Chaser MK II Full tower - i am testing it with FX-8150 watercooled and HD 6970-X3 Tri-Fire. If it passes, it will be one heck of a case (no side case fan).
Got a new cooling fan from Noctua
and two CPU coolers from Thermaltake
The Thermaltake Frio Advanced CPU Cooler
their newest and up to date most powerful CPU cooler, the Frio OCK
After that i should be working on my SLI vs CF part 3
i am still working on the review. Game summary charts are here:
UPDATED 10.03.2011
it's been a long time since we got some hardware under NDA for review.
i am going to be very busy for the next few days ...
===========================
(08/03/11 update)
Hi everyone .. it's been a long time since i did much more than a game review, driver analysis, SSD evaluation or notebook makeover
There is my Mega 80-game 3D Vision review coming up this weekend and then it appears to be Back to Business - *hardware* reviews
First up is the iTwin; cool piece of HW that lets you transmit securely over the 'Net from a remote PC in a simple drag 'n drop
http://www.itwin.com/
- it will be a "mini" review -- i'll use my public library to (hopefully) securely access my home PC
Now ... AMD asked me what i wanted to review and gave me a choice of 6 new partner HD 6770 cards. OBVIOUSLY, i'd love to review them all, but that is unreasonable to do in a short period of time - so i asked for one of the two that interested me the most - here were my first and second choices:
http://www.gigabyte.com/products/produc ... id=3861#ov
http://www.hisdigital.com/un/product2-607.shtml
AMD sent them both
; the Gigabyte is a
PASSIVE
HD 6770! -- a *monster* card!!
Do i have a review planned for you!
=============================
4/21/11
2 cards arriving tomorrow - HD 6450 and GT 520 - no mystery
. . . however there is a new CPU arriving next week
===============
5th new Card spotted and incoming - April 11 is today; it'll probably arrive this Wed or Thurs
- i can guess, can't i? i really don't "know"
In unrelated news, AMD is finally sending me the adapters so i can use my HD 6990 with 3-panel Eyefinity
- i can only use HD 6xx0 CrossFire right now. When i get the adapters, i will even be able to do 5x1 Eyefinity (i think; i DO have the 5 panels to use it)
AND i am going to have a Catalyst 11-3 performance evaluation up this week - it'll be compared to 11-2 and 11-4 beta
AND you can expect the Kingston tour article this week. i am unsure what the other editors have planned
OK, i am back to Eyefinity/Surround "research" - 3 matched panels is the way to go!
=======================
March 24.
Yet another incoming!
expect the GTX 550 Ti review this weekend; i need to run HD 5750 tests and write it up ... then a new launch
====
March 17
Tracking Notice of INCOMING
one is likely to be a 3D vision Kit with an ASUS 1080 120hz display
==============================
March 02 Update:
2nd Mystery Card just arrived.
No pics
=====================================
If HardOCP can do it, so can we - two attachments are at the bottom for your viewing pleasure!
It's a big muther .. in a metal case .. and see the latest post for a couple of more pics
-Mar1 update
================
update. 450W!!!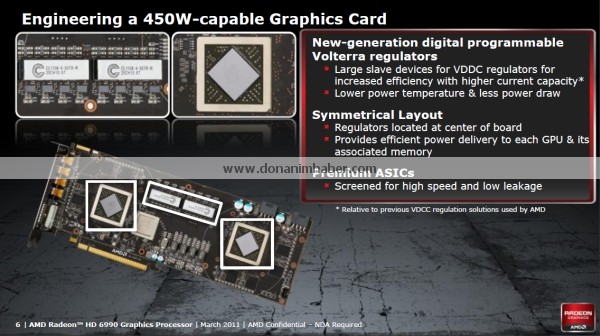 see latest post
============================
i really don't know what is coming but i do have some clues that i can (probably) share with you:
It's not from Nvidia


"a few new cards"

, is probably not breaking any NDA

i expect it/they will go up against a card we reviewed recently
So, i really don't expect any West Indies sandwich this week
--Speaking of ... will there be a HD 6990 and a
Lesser
Antilles
BtW, i have shortened my CF vs SLI eval to Part 1; i'm just using Core i7-920 at 3.8 GHz as we examine GPU and multi-GPU scaling. Subsequent evaluations will look at CPU architecture and speed. And i am *still* writing my SSD vs. HDD eval; it is in the writing stage and it is taking (much) longer than i thought.
So what do you think we will get?