Keysplayr wrote:
Ocre wrote:
I cannot for the life of me under stand how anyone would could be fooled by this, or tricked.
Sigh.......
Ocre, it's not that anyone was fooled, or tricked. The problem is an "attempt" was made to make something look better than it really is.
Do you understand?
Show the damn graph in it's entirety. Not a big request and shows a realistic percentage in the bar graph picture AS WELL AS the numbers.
Do it right, or don't do it at all. IMHO
i really think you guys are out of touch or something. Your not getting it at all. The charts are done that way to highlight the differences, to spot light them, to bring focus on them. Graphs are designed to give visuals of data for quick analyst and interpretations. Leaving out stuff that isnt necessary is the preferred way. You want emphasis on the important data. Ppl are acting like they are pictures of their willie whackers or something, "hey, this picture only shows the tip of mine and it shows more of his"
. Well that is because its not about yours or how big it is, its about how much bigger the other guy is!!! Its about the difference, every single mm of difference between them.
the difference..........
Graphs are not pictures but visual representations. The more you can simplify the data and make the relevant information stand out the better. Its not a trick. Its not an "attempt" to make something look better than it is. Honestly you need to really step back and take a long look at this. All egos aside.
Look here:
http://www.basic-mathematics.com/double-bar-graphs.html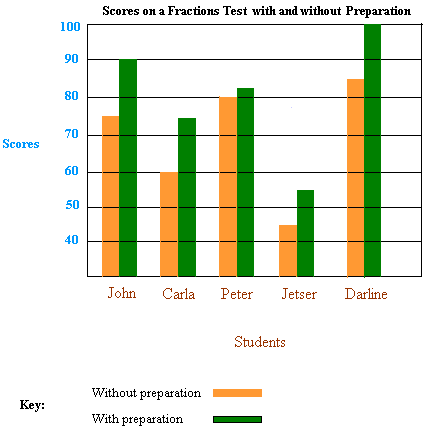 Quote:
After you have examined the double bar chart above, here are a few good observations you can make from the graph:

The scale is on the left of the graph and it is 10 units.

The title is "Scores on a Fractions Test with or without Preparation"

Preparation helped students to score higher

The lowest score without preparation is 45 and the highest score is 85

The lowest score with preparation is 55 and the highest score is 100.

The students who made the most improvement are Darline, Carla, and John. Their score improved by 15.

The student who made the least improvement is Peter. Although Jetser's score is still slow, he improved by 10 points while Peter's improved only by 5 points
..............


its a site for learning the most basic math, "basic-mathematics.com". The section linked teaches how to read bar graphs and how to make them. This is an example, their example of a graph. This is a very very very easy to interpret graph by the way.
The page goes on to have the reader build a graph from the data they give.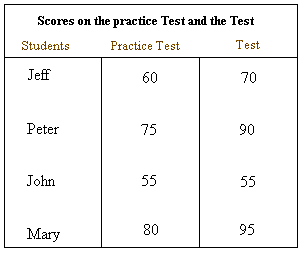 In the end this is the picture they show for what your graph should look like: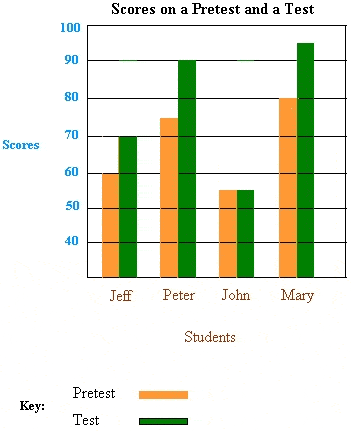 Can you say this basic mathatic site is trying to make peters or mary's test scores look higher than they really are. They started the scale on the right at 30 instead of 0. So they must have been trying to make the scores look different if we take your logic here. But that couldnt be further from the truth. This is an example of a simple graph and how to make them. The only difference is that its not about companies that people are emotionally attached to. They both are on scores, one test the other benchmark. The reason they left out 0-30 is not to make the difference look higher than they really are. That is total failed logic. Completely catastrophically failed. If you know how to read a graph, there is no way you would misinterpret it at all. 0-39 is completely useless to have in the graph. It waste space and its inefficient.
If you feel different about the nvidia chart then this example above then you have a problem that you need to become more aware of. I am sorry, but you really need to take some time to grasp this.
i would love to hear feedback now